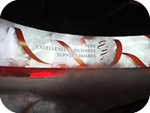 Because we're projection specialists, we have a huge range of projectors and projection services available.

From boardroom presentations, to filling a wall or painting the outside of a building with images, we have the equipment and expertise to do almost anything you can imagine.

Screen-blending software allows us to scale media to almost any imaginable size, and blend multiple projectors together to create life-size, high-resolution images.